Pokemon Go Kigurumi Eevee 2017 Onesies now is available for Pre-Order / Make-to-Order (7 ~ 10 days) !!!
( We may take more time to make it if there's quantity of active orders. )

IMPORTANT : SINCE THIS IS A HANDMADE ITEM, WE DO NOT ACCEPT CANCELLATION OR RETURN REQUEST IF NOT OUR ERROR OR THE QUALITY PROBLEM, AND PLEASE CONFIRM THE SIZE OF CLOTHING, WE ARE NOT RESPONSIBLE FOR ANY SIZE PROBLEM, DUE TO IT IS EASIER TO GET IT RIGHT NOW RATHER THAN RETURN FOR EXCHANGE. THANKS.
Size Chart
Choose the size according to the height
Based on the height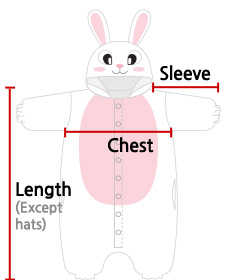 Size

Height




(Recommended Size)

Length




(Except hats)

Chest
Sleeve
110
100~110cm
(3'3"~3'7")
85cm
(2'9")
52cm
(1'8")
28cm
(11")
130
120~130cm
(3'11"~4'3")
95cm
(3'1")
54cm
(1'9")
35cm
(13.8")
140
130~140cm
(4'3"~4'7")
107cm
(3'6")
55cm
(1'10")
45cm
(17.7")
XS
140~150cm
(4'7"~4'11")
127cm
(4'2")
56cm
(1'10")
47cm
(18.5")
S
150~160cm
(4'11"~5'3")
132cm
(4'4")
57cm
(1'11")
51cm
(20")
M
160~170cm
(5'3"~5'7")
141cm
(4'7")
63cm
(2'1")
55cm
(21.7")
L
170~180cm
(5'7"~5'11")
150cm
(4'11")
68cm
(2'3")
56cm
(22")
XL
180~190cm
(5'11"~6'3")
160cm
(5'3")
71cm
(2'4")
65cm
(25.6")
XXL
190~200cm
(6'3"~6'7")
/
/
/
XXXL
200~210cm
(6'7"~6'11")
/
/
/
Error tolerance of±5cm is possible depending on the manufacturing date and measuring location
Pokemon Go Kigurumi Eevee 2017 Onesies