He's Shaun the Sheep!
His name is Shaun. He lives on a farm. Oh, and he's a sheep.
But Shaun is no ordinary sheep! He can dance, paint, and play a guitar. He's full of wild ideas and clever plans to help get his flock in and out of trouble.
Shaun The Sheep Kigurumi Animal Onesies
The countryside goes to the dogs ...... er sheeps.. ....er flock.. ....um chickens... Oh, whatever...the whole barnyard is here, with Shaun The Sheep!
Shaun The Sheep on the tube with his farmyard pals in his own Halloween party show!
Size Chart
Choose the size according to the height
Based on the height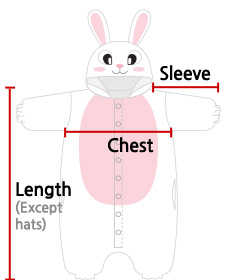 Size

Height


(Recommended Size)

Length




(Except hats)

Chest
Sleeve
110
100~110cm
85cm
52cm
28cm
130
120~130cm
95cm
54cm
35cm
140
130~140cm
107cm
55cm
45cm
XS
140~150cm
127cm
56cm
47cm
S
150~160cm
132cm
57cm
51cm
M
160~170cm
141cm
63cm
55cm
L
170~180cm
150cm
68cm
56cm
XL
180~190cm
160cm
71cm
65cm
Error tolerance of±5cm is possible depending on the manufacturing date and measuring location
Shaun The Sheep Kigurumi Animal Onesies