Do you love Hayao Miyazaki movies? Maybe you are just looking for a soft and comfy pajama. Do you in to Cosplay?
Totoro pajamas design is from the famous popular Japanese film, my neighbour totoro. This totoro onesie has the smile of totoro on the hood with its big teeth. Acting out a character's nature is part of the fun of cosplay. The totoro kigurumi is made from machine washable high quality Flannel. It's warm and fluffy, making it perfect for having a hoot with friends.
Both have both, the animal onesies has comfy pajama and fun cosplay for you!
Size Chart
Choose the size according to the height
Based on the height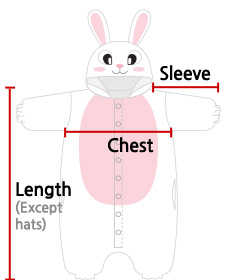 Size

Height




(Recommended Size)

Length




(Except hats)

Chest
Sleeve
110

100~110cm

85cm

52cm

28cm

130

120~130cm

95cm

54cm

35cm

140

130~140cm

107cm

55cm

45cm

XS

140~150cm

127cm

56cm

47cm

S

150~160cm

132cm

57cm

51cm

M

160~170cm

141cm

63cm

55cm

L

170~180cm

150cm

68cm

56cm

XL

180~190cm

160cm

71cm

65cm
Error tolerance of±5cm is possible depending on the manufacturing date and measuring location
Totoro Kigurumi Animal Onesie