James P. Sullivan and Mike Wazowski are an inseparable pair, but that wasn't always the case. From the moment these two mismatched monsters met they couldn't stand each other. "Monsters University" unlocks the door to how Sulley and Mike overcame their differences and became the best of friends.
Sulley: Only One Size (Size M)
Mike: Size S, Size M & Size L
Size Chart
Choose the size according to the height
Based on the height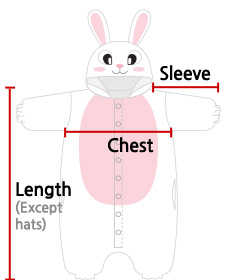 Size

Height


(Recommended Size)

Length




(Except hats)

Chest
Sleeve
110
3'1"~3'7" (95~110cm)
34.2"(87cm)
18.8" (48cm)
16.9"(43cm)
130
3'7"~4'3" (110~130cm)
41.7"(106cm)
20.4" (52cm)
19.4"(49.5cm)
140
4'3"~4'6" (130~140cm)
46.4"(118cm)
21.3" (56cm)
22.0"(59.5cm)
XS
4'6"~4'9" (140~150cm)
50.4"(118cm)
22.0" (56cm)
23.6"(59.5cm)
S(Mike)
4'11"~5'5" (150~165cm)
53.1"(135cm)
22.8" (58cm)
26.5"(67.5cm)
One Sizes(M/L)
5'6"~5'10" (166~178cm)
58.2"(148cm)
26.7" (68cm)
28.9"(73.5cm)
XL(Mike)
5'10"~6'3" (179~190cm)
62.9"(160cm)
27.9" (71cm)
31.5"(80cm)
Error tolerance of±5cm is possible depending on the manufacturing date and measuring location
Monsters University Sulley and Mike Onesies Kigurumi Pajamas
Free Shipping
More than 1 item & over $60
【TO GET 10% DISCOUNT CODE】
1.LIKE 4kigurumi (www.facebook.com/4kigurumi) on facebook.
2.Write something on our timeline! Tell us what your favourite kigurumi is and the product link.
3.We'll comment on your post with your code as soon as possible.
Views: 22065
Product Code:

K0140

Availability:

In Stock
$259.90
$129.95
Ex Tax: $129.95
Ads
Tags: monsters university, monsters, sulley, sullivan, mike, mike wazowski, sulley onesie, mike onesie, sulley kigurumi, mike kigurumi, monsters university onesies, monsters university kigurumi, monsters inc onesie, sully, sully onesie, disney, disney onesie, halloween